Transportation
I remember running our old DeJUR in "slow motion." Turning down the speed knob, the motor's whine would drop into a lower register and you could easily see each frame go by. But don't try to go too slow or the motor will stall and a little heat shield screen will drop into the light path and the image will be very dark. Of course, that heat shutter might stick and then we see the thrilling spectacle of a hole melting in the film, projected larger than life on screen.
Well, for the telecine, I don't have to worry about anything melting. But I do need to run the projector slowly, since the camera and computer can't capture fast enough to move the film at 18 frames per second.
The original motor speed control was just a rheostat, which didn't provide very good regulation. If anything binds, the motor will slow down a lot. I tried using a sold state "Router Speed Control" but the old motor is just too small and weak for the job. It could not run slowly enough without stalling.
The only solution was a new permanent magnet DC motor, which sadly compromised the retro styling of the machine…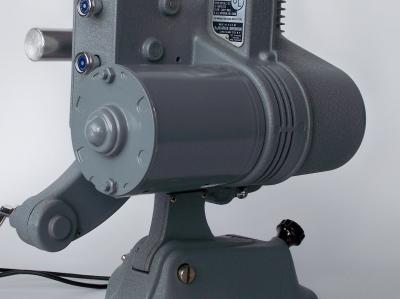 … but it runs smoothly and quietly at low speeds, from less than 1 to about 15 frames/sec, without stalling. I replaced the old rheostat with a voltage controlled PWM speed control, using a 555 timer chip, a comparator, and a power FET. The PWM circuit board fits neatly inside the base. Without the old AC motor, and the 750 watt lamp, the whole machine can now be powered by a 12 volt/5 amp AC adapter, so there is no AC wiring in the base any more…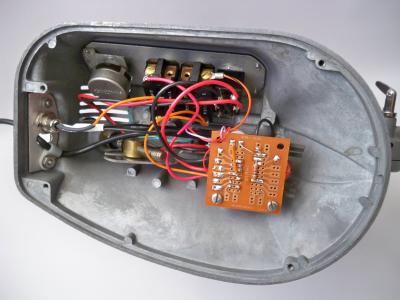 … and everything on the neat old control panel still works as labeled …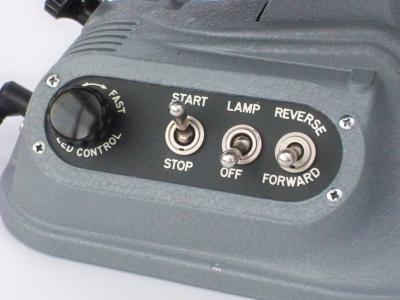 The motor drives the shutter wheel through a rubber belt. The only change here is the removal of two of the three shutter blades, to give the camera more time for each capture. The remaining blade still blocks the light during the film advance, so I can watch a movie live on the computer without blurring. The extra blades were there to make the on screen flicker less annoying by raising its frequency. I added a bit of lead solder to the shutter wheel to balance the single blade, so the machine doesn't vibrate when running fast…