Bright White Light
The light source had to be bright, yet small and cool. LEDs are perfect for this job. I originally tried arrays of white LEDs in front of the projector lens, using the lens as a condenser. But the white LED spectrum is not ideal, and the light must be diffuse for best results, so the final design uses a single RGB LED device inside the lens mount with a diffuser and no condenser lens.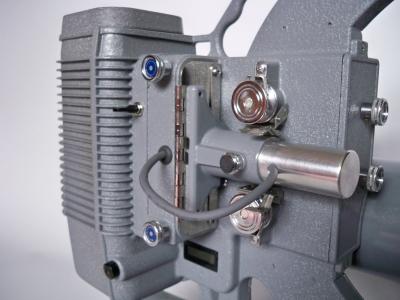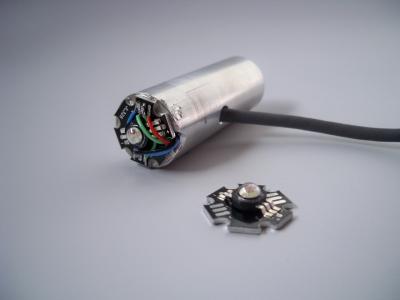 The LED is attached to a 7/8″ diameter aluminum bar using thermally conductive epoxy. The bar acts as a heat sink, dissipating the heat outside the lens mount. With RGB LEDs, the red LED brightness drops a lot more with increasing temperature than the green and blue LEDs. So to avoid a color balance shift during movie transfer, it's important to keep the LED relatively cool and at a fairly constant temperature. The solution is a good heat sink, and warming the LEDs up for a few minutes before starting a transfer.
The LED wiring runs through a hole in the bar to emerge outside the lens mount. The LEDs are connected in series, with a single resistor to set the LED current, using the machine's 12 volt power supply. The two tap points between the series LEDs are brought out so that the current in an individual LED can be trimmed by adding a parallel resistor. This allows the source to be matched to the response of the CCD, to maximize dynamic range (more on that below). I changed the camera to B&W raw mode using the WcRmac program, then adjusted resistor values until the bayer pattern in the image disappeared, so I know the LED is driving the 3 CCD colors equally. The resistors are mounted on a terminal strip in the bottom of the lamphouse…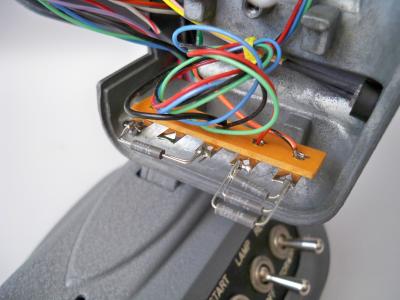 I've thought about using the microcontroller to switch the LEDs on and off for each frame. Timing the on pulses separately would allow the micro to control color balance over a wide range without using trimming resistors. But the simpler approach is working for now.
The diffuser is a small square of opal glass attached with hot glue to the lens mount plate. This location is within 2mm of the film plane, and it does a great job hiding scratches. Opal glass is clear glass with a layer of translucent white glass about 0.5mm thick on one side. The white side is toward the film. The closer the diffuser is to the film, the better it works, but it must be clean, polished and uniform in color, so it's not visible, as it is in the focus range of the lens.