Introduction
This is the story of a fun project. I needed to digitize my family's collection of 8mm movies before it was too late. I chose to build a machine to do it, rather than pay someone else to do it. Since I also enjoy old photo equipment, I built the telecine machine using a projector from the 1950's, almost identical to the one we used when I was a kid to show the movies that I am now scanning.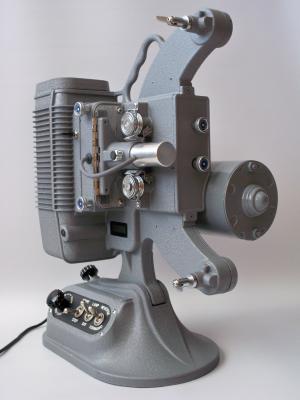 So this project is both practical and nostalgic. For less than $200, I have a high quality (see some sample frames) telecine machine that will save us about $2000 in copying service costs. At the same time, it's been great fun to work with a fine old projector and make a stylish retro telecine machine out of it.
The photo here is of the complete machine. With no extra widgets bolted on like most telecine units, there are only a few hints that this is no ordinary movie projector.
WARNING:
My explanation might make the project seem pretty easy, but it has not been so. I've made a lot of changes as I encountered problems with my first ideas. If you try to do this, be prepared to be persistent! It's not a trivial project, but it's worth the effort when you finally see an old movie brighter and more beautiful than it ever appeared on the old vinyl screen. Did I mention the sample frames?